---
I started calling myself a hippie pretty soon after thousands of them invaded my small town to attend the Woodstock Festival, when I was ten. They talked about peace and freedom, and they were peaceful and free! They did things in public that I was afraid to do even in private. They also lived in a way that made gender divisions seem superfluous. Girls and guys could dress more or less the same, wear their hair long, and be sensitive, gentle souls whether or not they were teased or punished for it.
I got to be that way for the next five years, too. I wore bellbottoms, and ripped, faded jeans, and tasseled vests and military surplus jackets and had hair halfway down my back. I was often assumed to be a girl, but, because that happened to hippies all the time, I never consciously faced the realization "I like to have a feminine expression." When my dad finally interceded, he tried to cajole, bribe, threaten and punish me into dressing like a man, and finally stole my favorite bellbottoms and forced me to get a haircut.
Dressing like a man was hard enough, but acting like a man was even harder. I had to go against all my own instincts to be successful, and I really never understood why people thought male ideals were worth emulating in the first place. There were no role models for the person I wanted to be. Harpo Marx came close. Tiny Tim as well.
I was always looking for male characters I could identify with in movies and books, and got no further than gentle Chauncey Gardiner in "Being There." Meanwhile, I identified heavily with women in books and movies all the time, especially Shirley MacLaine's character in Hitchcock's comedy "The Trouble with Harry" and Juliet Mills' Pamela Piggott in Billy Wilder's 1972 film "Avanti." Both women were free-spirited non-conformists leading unconventional lives. The poem that has touched me more deeply than any other is Denise Levertov's "A Woman Alone."
Meanwhile, I chafed against expectations of me as a man at work, with my family, in my sex life, and among my friends. When I was married, I couldn't bear to have the term "husband" applied to me, and I would soften it to "husby" when I had to say it. My career broke down, my relationships broke down, and then I broke down—while I was literally trying to act and dress like a man; I spent a Halloween workday in costume and in character as Walter Sobchak, as portrayed by John Goodman in "The Big Lebowski." At the end of the day, I took off the costume, and I was unable to get back into character as myself. The assemblage of coping mechanisms, play-acting, blind spots, workarounds, self-censorship and self-control that made up my male identity had collapsed.
I no longer knew how/who to be in the world, and every human interaction became confusing if not overwhelming. I stopped leaving the house, except for work and therapy. But I was working as a writer, and my ability to write in distinct voices vanished with everything else, and everything I wrote came out sounding like my own voice, when I could finish an assignment at all. Before long, I lost my job and became a full-time hermit.
It was at this point that a former student of mine came out on her blog as genderqueer, which was the first time I ever heard about gender variance and identities beyond the binary. Three months later I came out as transgender, and six months after that I came out as genderqueer and began to transition. That was a little more than ten years ago. I remained a hermit for two more years, coming out about lots of other things about who I am, who I am attracted to, and what I like to do.
One of the many things I had to come out as was as a performer. From the first time I acted in a play (in front of my fourth-grade class), I loved to perform. And I've always felt more like myself when I am in front of an audience, a classroom, or most any kind of assembly. I majored in theater in college, but drifted from acting to writing because I got more encouragement in that direction, and I ended up going to graduate school for creative writing and then English literature. Having never aspired to teach, I taught for the first time as a grad student and I loved it! The actual experience of being in the classroom, that is. I didn't like much else about being a professor, but I craved leading discussion and reading aloud from the assigned readings. I had a captive audience a dozen times a week!
But I found the rest of my job—grading papers, keeping up with paperwork, and selling myself to colleges to get work was beyond me. After six years of teaching in non-tenure positions at three different schools, I flunked myself out of académe. Thinking of myself as a writer, I sought proofreading and editing work and ended up with a career as a marketing copywriter, not realizing the effect that giving up my captive classroom audience would have on me. For the next 15 years, I was perpetually miserable and filled my free time with distractions because I hated my life. I continued to teach classes on the side for a few years, but couldn't handle that much brain work on top of my day job.
Sitting in my hermitage, growing my hair out and playing with makeup and jewelry, I realized that, if I ever wanted to reconnect with the world, my only hope was to do so was as a performer. In 2010, I moved into San Francisco to seek my fortune as Dana Morrigan, Gender-variant Humorist. I took whatever gigs I could get in queer variety shows and fundraisers, and haunted all the queer open mics in the area. I wrote and performed comedy, poetry and prose, acted in plays, emceed shows and modeled for photographers. Then I went to my first gay-bar karaoke night.
Karaoke was a revelation: a social activity that included performance! Getting to sing in public was a temporary calmative against anxiety. It made me less guarded, more able to relax and get to know people. I started to find community among the queer karaoke nights of the Bay Area, and got my first sustainable gig as an assistant to the karaoke host at the bar where I was a regular.
From there, I went on to start my own queer karaoke show, and now it is the heart of both my professional and social life. When Tristan asked where I wanted to be shot for this series, I couldn't think of anyplace I'd rather be documented onstage at one of the venues where I host Karaoke With Dana.
I'll end with a joke from one of my comedy routines: "I'm so glad I turned my life around. My hippie days used to be behind me; now they're in front of me again."
---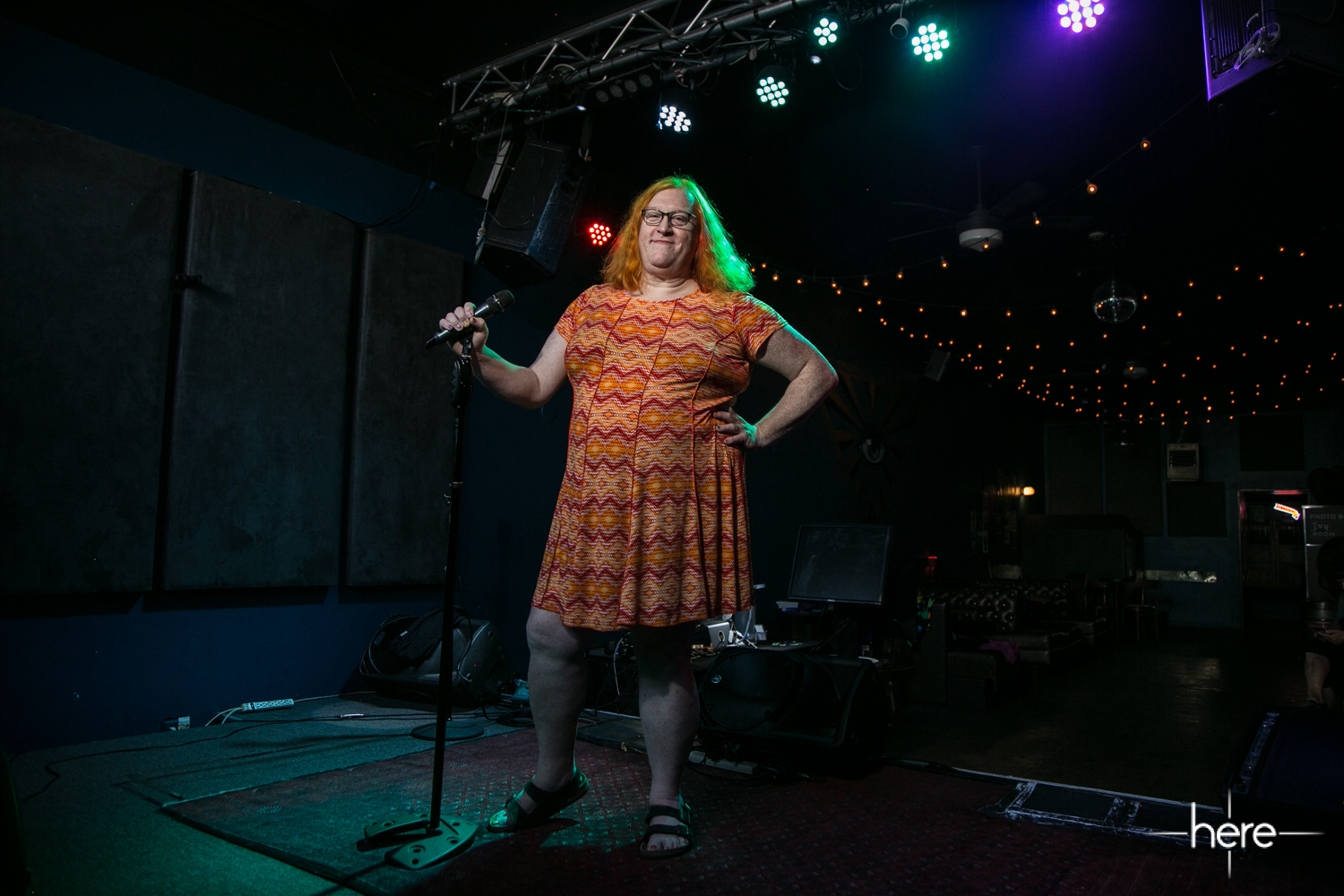 Genderqueer Den Mother
Transfeminine Genderqueer
She/her; they/them
60 years old
Oakland, CA
IG: @identityTBD
Twitter: @KaraokeWithDana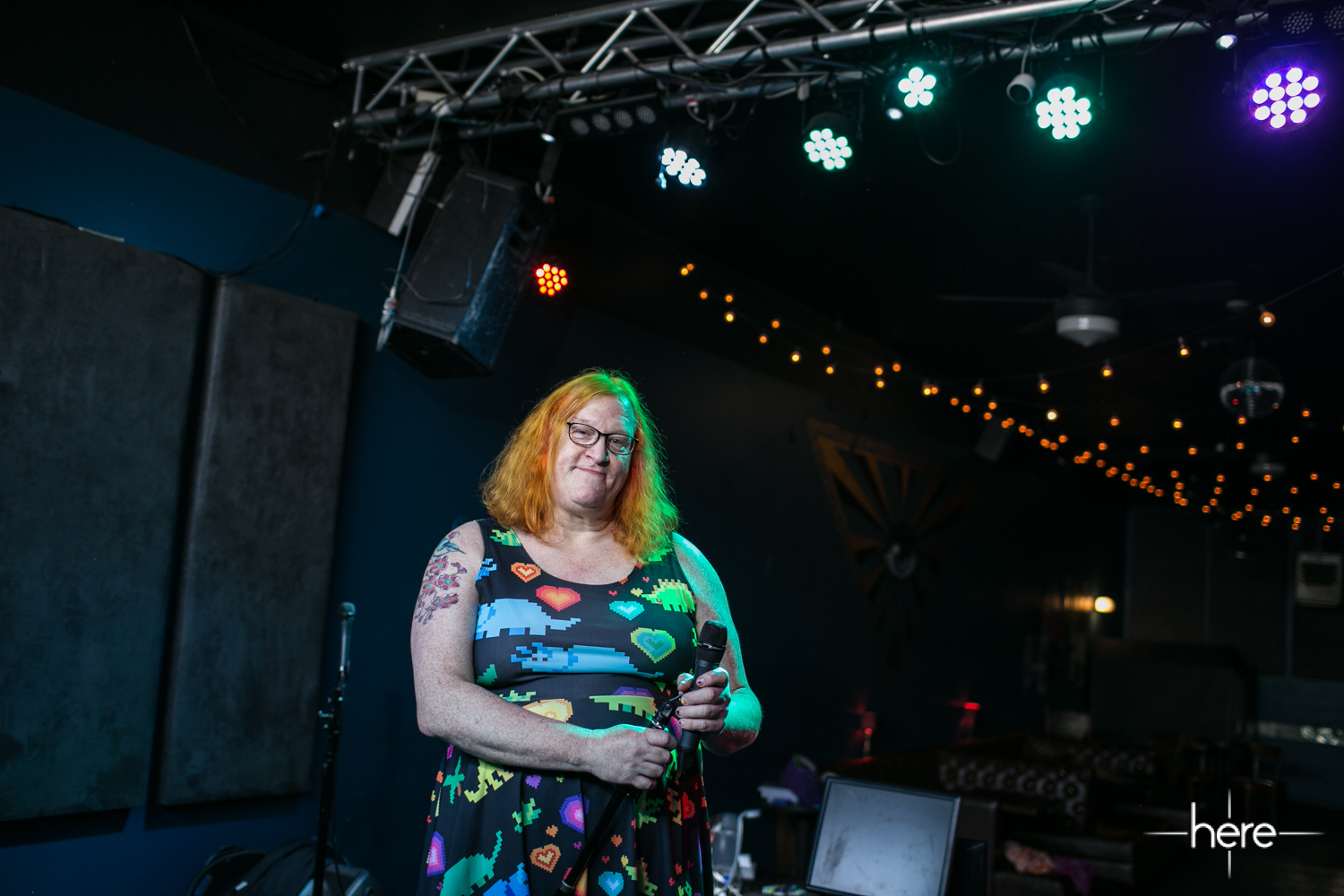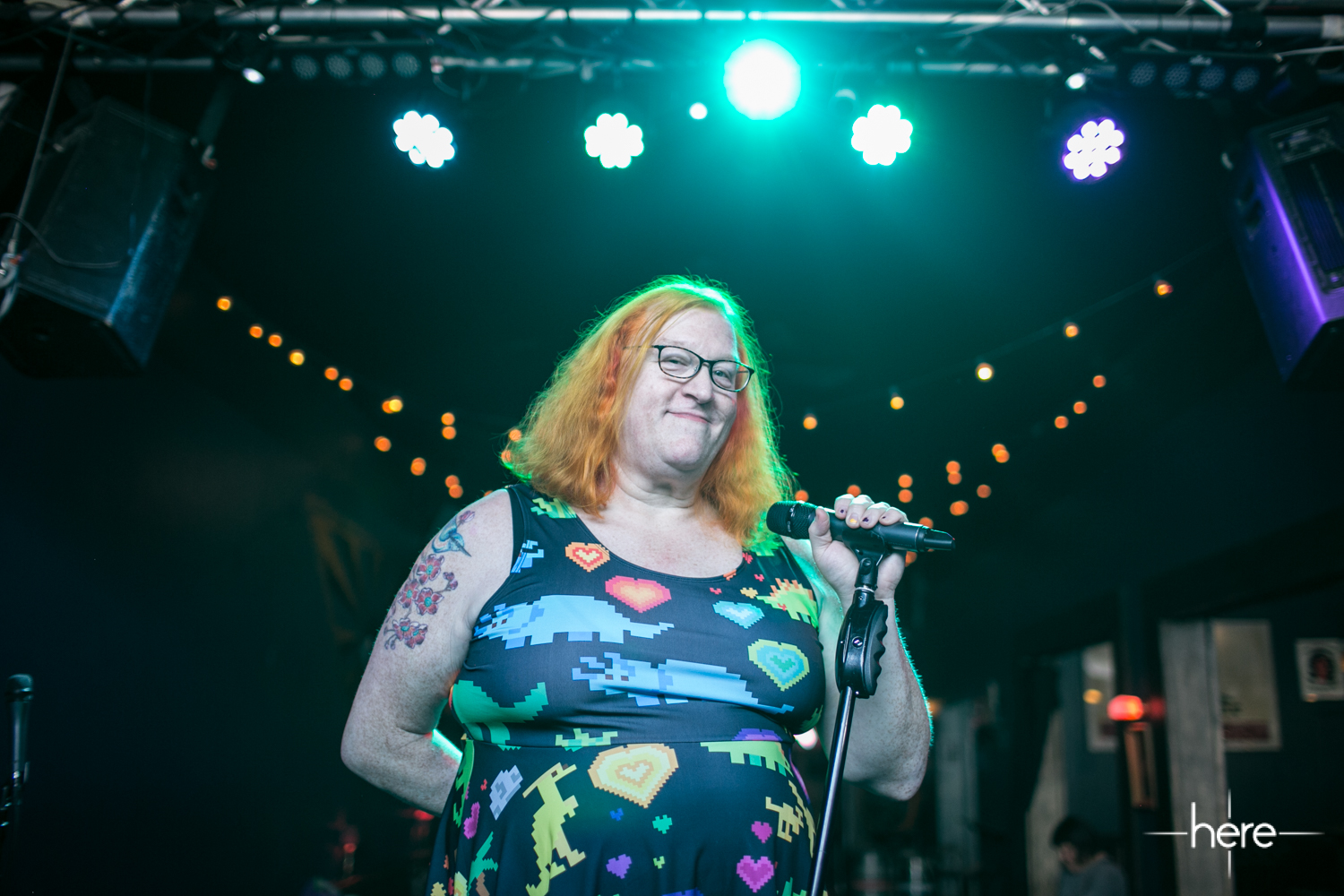 ---