In 2022, I circled back to some of the participants of this series to ask them if they would like to update their profiles, or expand a little more on how the events of the last few years have affected them. Here is Jiz's response –
How was your experience participating in this project?
Posing for Tristan is always a pleasure. I've been in front of and around their camera many, many times over the years! These photos are among my favorites, and express the moodiness of San Francisco so well. It was a thrill to see the photographs online within the collection of other trans nonbinary people. Sometimes it feels so lonely and isolated. We turn inward a lot. It's reassuring and validating to know there are so many faces that reflect and are connected by a similar experience, in our own lives and through this project.
In what ways have you and your life been impacted by the COVID-19 pandemic?
I've long considered myself incredibly fortunate to work in pornography, and the pandemic has affirmed this yet again. My income comes from a job and a few online revenue streams that are 'recession proof' as well as flexible and health conscious. Prior to the pandemic, I was primarily working from home, so not much changed in that regard. My performing gigs have taken a temporary pause, during which time I've focused on solo content and using pay platforms as a way to connect with fans over my interests in physical fitness, nudity, and nature. Also, I got a cat.
Has your relationship to your gender or any aspect of your identity evolved since we collaborated together, and if so, in what ways?
I've noticed that I've become more neutral in my gender expression. Wearing sweatpants 24-7 has been a comfortable change of pace. I'm sure there'll be fun opportunities to dress up in the future, but for now I've welcomed a casual 'athleisure' aesthetic.
Would you like to share a bit about your relationship with queer culture, community, and anything about your own history that you'd like us to know about you?
As the years pass, I've become more interested in archiving and documenting queer histories. I've saved a lot of my own film memorabilia over the years, and have also been inspired by my work with Pink & White Productions, where we've added classic queer adult films on our streaming site PinkLabel.TV, some of which were produced in the Bay Area and incorporate archival footage of the Freedom Day parade, and location settings like bars and cruising spots that are no longer around. Produced by and starring beautiful queer people who are no longer with us. What a gift to have these historic films that snapshot our lives and fantasies for future generations to appreciate. It's made me appreciate the work I do even more. Cherish the moments while they're here!
---
Where is 'here'…? While the notion of being secure and grounded in place is assuring, it is elusive at best. Even our fixture in the cosmos is ever changing. The only thing constant is change, as the dark philosophy goes. The HERE for my gender expression is equally elusive, and no more permanent than life itself. Here today, gone tomorrow.
Much like the flexibility of structures like the coconut tree allowing for the stability to endure hurricanes and quakes, my gender is the most sustainable when it is flexible, able to sway in any direction.
---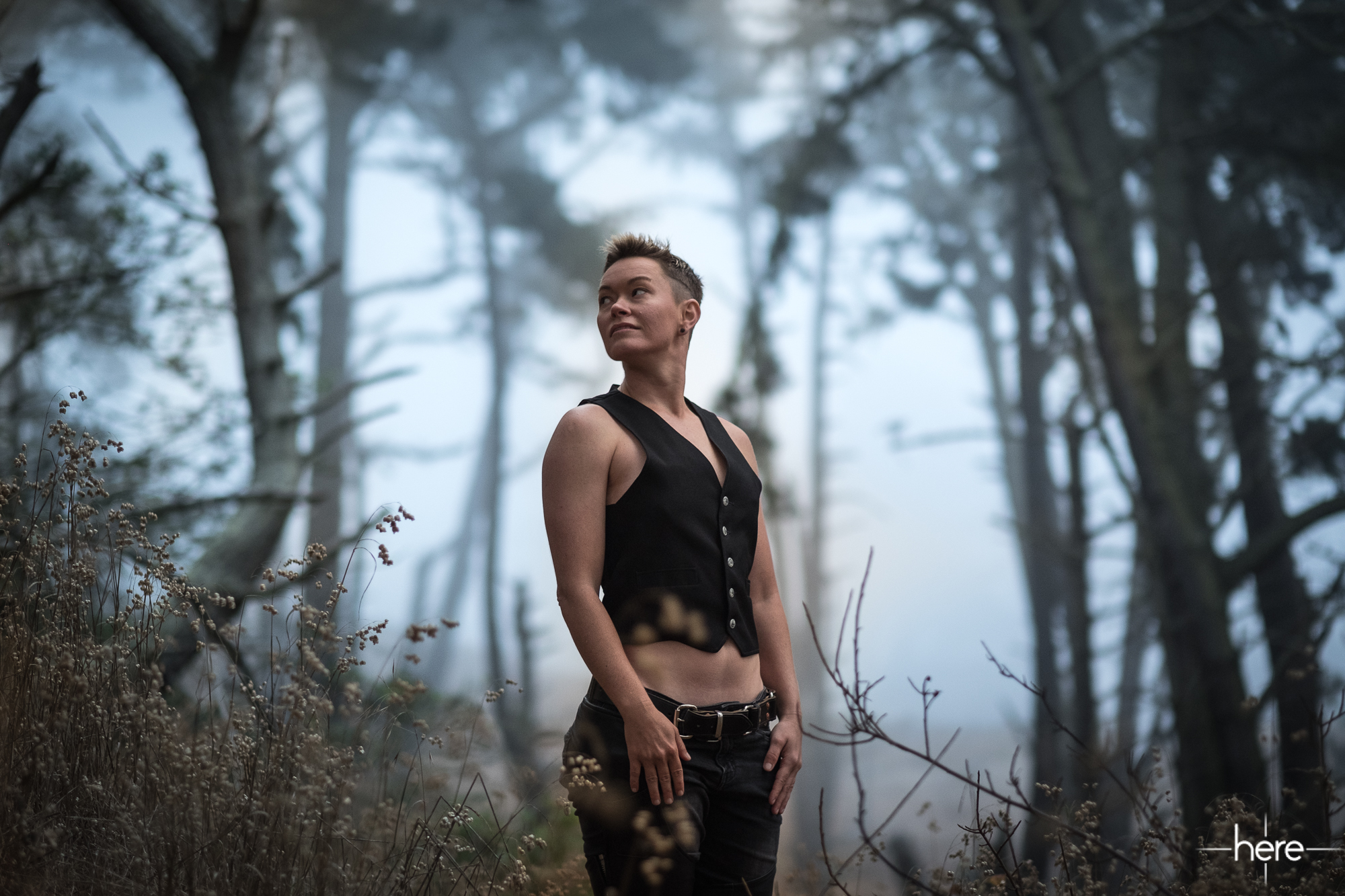 androgynous non binary queer
Gender ID : Non Binary
Age : 37
Location : Oakland/Maui
See more of their work @ Jizlee.com